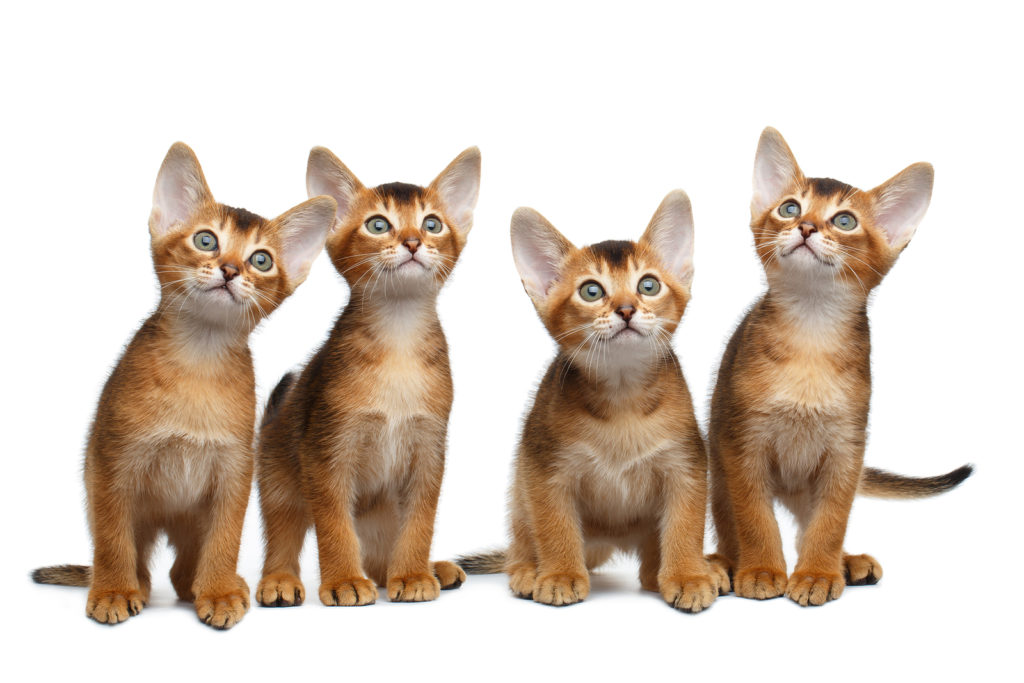 So here's a question for you all. What is the weight of your abys? Mine is a bit smaller than others cause of her healthy problems, so she's 3.3 kg
Barbara Mauldin: Lexi is 6 pounds which is what our breeder told us she would be. She's almost 18 months old.
Sandra Šileikaitė: my girl was about 6 pounds too till this summer. She's Sterilized so I'm a bit scared that she's getting fat. ( cause everyone says that if you sterilized your cat she will get fat very quickly)
Hisia Loustiquette Natacha: Sandra that is not always true. Hisia is 4 years old, has been spayed at 6 months. And she eats dry and soft food, free feeding.During she summer she is real fine.
Sandra Šileikaitė: Thank you
Tom Reidy: Jake is just under 10 LBS. I think the breed has gotten leaner in the past 10 years.
Sabine Leca: Mine 3 kg
Sandra Šileikaitė: Is your sterilized?
Sabine Leca: Sandra Šileikaitė No
Sandra Šileikaitė: I dont know how to ask in english correctly, but do you make your cat sees other cats for kittens or no?
Sabine Leca: Yes
Marta Peterson: Sandra Šileikaitė English… No kittens? Male cat — "neutered" or "fixed". Female cat — "spayed". 😉
Sabine Leca: Marta Peterson may I give an answer soon ?
Gail Clignett: Our desexed boy is about 4.6 kg we have him on a portioned control diet plus exercise and our entire girl is about 3 kg's they are both show cats so are in show condition, having said that Tesh is of the smaller type and Khan is a bigger boned Abby.
Sandra Šileikaitė: Thank you so much
Hisia Loustiquette Natacha: My four years girl is 3,6 kg during the summer and
Hisia Loustiquette Natacha: Hisia is 3,6 kg during the summer and around 4 during the winter. She is small but real fit. She spends many hours per day outside.
Sandra Šileikaitė: Mine also likes to be outside just not every day we have chances to do it 🙁
Karin Carlsson: I have a neutered female. She is 2,8 kg and 1 1/2 yers old
Cynthya Petzen: Mine is 4 kg (8.8 lbs) which the vet says is just what she should be.
Tracy Weed: Yvette is just 6 pounds.
Kristin Mason: Pepper is about 6.5lbs, 4 years old and was spayed at 6 months. She is not an eater at all, maybe about 4oz a day of wet food.
Brenda Rossini: I have a tiny little girl; she eats more than the other 2 Aby boys that I have.
Chanel White: My aby is very small from health issues as well. He is 15 and never been over 6.5lbs! Everyone thinks he is a kitten lol 🙂
Sarah Fellner: Sookie is 4.5 lb at 7 years old. I call her my perma kitten!
Sandra Šileikaitė: She should be so small!! That's nice 🙂
Sarah Fellner: My husband thought she was normal size for an aby until we went to a cat show. He couldn't get over the 9 month old kitten who was much bigger!
Sandra Šileikaitė: I know that feeling!! We also been in a cat show 🙂
Amanda Schmidt: I have to work to keep my Abys weight up because she is on the move constantly! She's maybe 7 lbs. I thought she was so long abs lanky until I saw my friends tuxedo cat that is massive and almost 20 lbs. she is def my perma kitten.
Katharine Janman: Our two year old neutered brothers are 3.6kg and 4.6kg.
Francine Hockley: Our little girl Tallulah is super tiny, she was 2.2kg and is 4 years old. She's been on raw only food for a month and she's 2.5kg now ? everyone thinks she's a kitten !
Isabel Gallé: My neutered Aby is 7 lbs soaking wet ! he is healthy and very active at 8 yrs
Amanda Fox: Mine are 4 and 5 years old and 5 and 7.5 lbs respectively. My girl is the petite one. She is very very active and not an ounce of fat in her. My boy is a bit lazier and is quite "solid" with a little bit of a neutered belly.
Leslie Kramer: Oh, dear, Jackson is 5 (neutered) and 11 – 12 pounds (haven't weighed him recently). But it's almost all solid muscle. And to think he was the little runt of his litter – his big brothers are probably even larger.
Alex Budyszewick: Rose is 7 lb 3 year old
Amanda Schmidt: If they were 25 lbs they (at least mine) would scare ppl! Have you seen the Aby hybrids?
Michelle Wrobleski: My first Aby was a male ruddy at 10 lbs, then a blue girl who was 10 lbs. and a red broad shouldered male was 13.5 lbs. (we always thought of him as a football player Aby). My current Aby is a 4 yr old ruddy male at 10.5 lbs.
Евгения Юрганова: Мой кот Космос, он кастрат, 16 сентября ему исполняется 3 года. Весит 4,100 кг. Очень активный, любознательный, постоянно придумывает что то, что бы нас удивить!
Lara Kuiper: Zaya is 3.3kg. Kita is bigger bit a aby mix 3.9. Dahly male and is also 3.9 kg.
Alex Jessica: My fatty McFatty is 6.2kgs. He is solid.
Marcia LeBlanc: My girls are 1 years old. My red girl Ruby weighs 8lbs 3oz and my ruddy girl Loki weighs 6lbs 14oz.
Sharon Byrne: My two girls are 6 and 7lbs.
Lauren Feldman: My 5 yr old male weighs 12.5 lbs.
Liz Green Shaw: Madu is 3.8k. 2 years old
Play
-0:21
Additional visual settings
Enter fullscreen
Mute
Liz Green Shaw: Female
Cathy Belford: My two are 15 months old. Freya is about 3.1kg, and Gaia about 3.4kg. They look fine to me. They don't overeat even though they have dry food out all day.