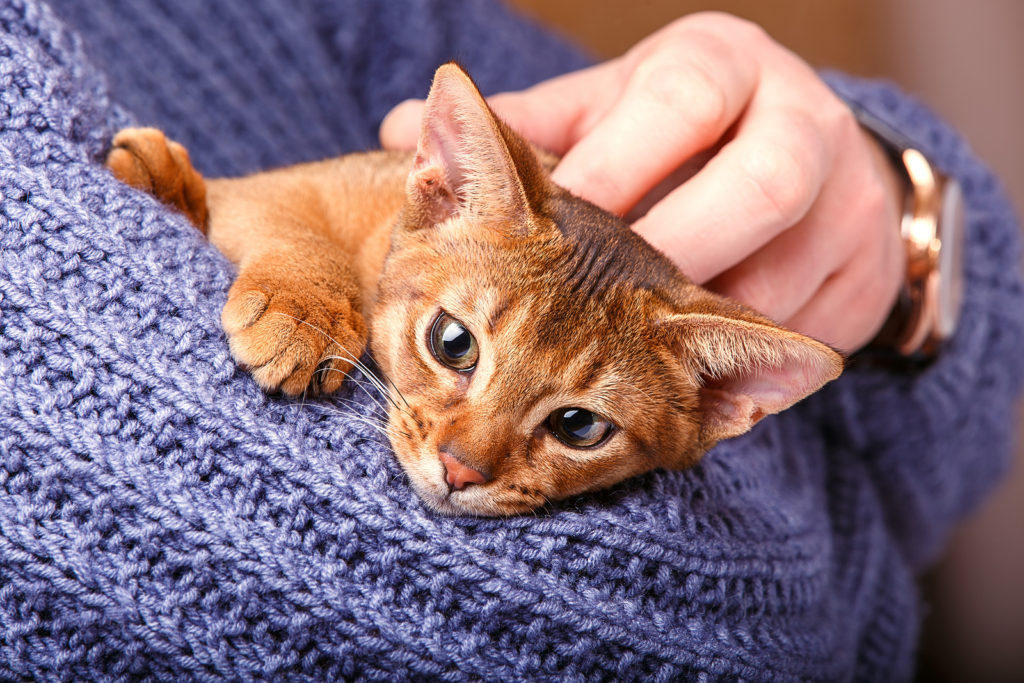 Even though Abyssinians are considered to be generally healthy, there are some common feline health issues and a few serious hereditary problems that are common for this breed. The list below is meant to summarize the diseases, symptoms, possible treatments, and advice to help prevent them from affecting your Aby in the first place.
1. Periodontal Disease
Prevention
Regular brushing and cleaning the cat's mouth and gums are highly advisable.
Symptoms
Early symptoms are usually inflamed teeth, which can pose more serious issues if not treated correctly or in time.
Treatment
Based on the level of advancement, there are numerous possible ways to treat the disease. In early stages, plaque control is the most common method, which can be achieved by more frequent brushing. In cases when the disease is already in a more severe stage, an antibiotic gel can be applied, or in more serious situations bone replacement and other procedures might be needed.
2. Progressive Retinal Atrophy
Prevention
As this inherited disease is based on genetic degeneration, there is no known method for prevention. Early recognition might be key in fighting the disease, which can produce the first symptoms at about seven months of age.
Symptoms
After the first symptoms at about seven months of age (which can be detected by an ERG exam), the progress of the vision loss slows down, taking 3-5 years to produce full blindness.
Treatment
There is no known treatment for this progressive degeneration.
3. Luxating patella
Prevention
There are currently no known preventive measuers.
Symptoms
Luxating patella or dislocated kneecap can be identified when hindlimb movements, occasional skippings or sudden lameness is present.
Treatment
Even though there are treatments for kneecap dislocation, these only provide very little or no effectiveness. Surgical treatment is advised for severe cases.
4. Pyruvate kinase deficiency or PKD
Prevention
As this disease is a genetically inherited one, there are no known preventive measures that can lower the chances of occurrence.
Symptoms
Weakness, inability to perform usual exercises, anemia, elevated heart rate.
Treatment
The only treatment option for PKD is bone marrow transplantation.
5. Kidney failure
Prevention
There are currently no known methods that can help to prevent kidney diseases.
Symptoms
Vomiting, diarrhea, lethargy, weight loss, increased thirst, blindness seizures, blood in the urine. These symptoms can occur gradually over an extended period, also they can vary based on the severeness of the case.
Treatment
There are various steps that can help to minimize the symptoms, as there is no cure for chronic kidney failure: fluid therapy, kidney diet, vitamin D supplements and much more.