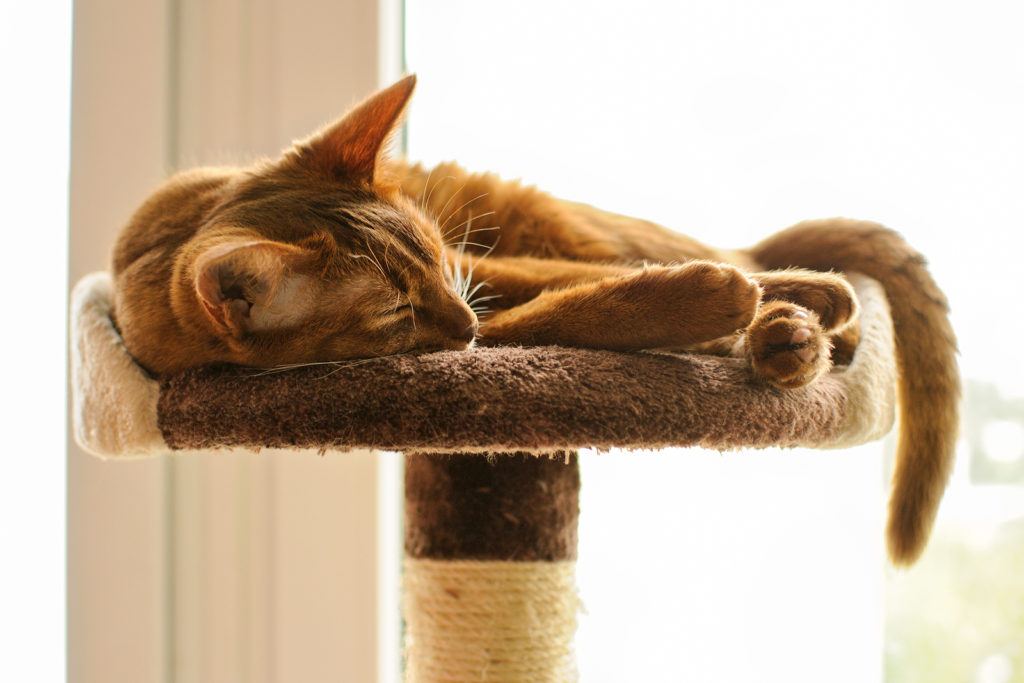 Abyssinian coats can sometimes be confused with tabbies but they stand out with their ticked coats, which are smooth and feel silky to touch. The ticked pattern is unmistakable, as is the resilience of the coats. However, the "agouti" or ticked pattern, the coat and their disproportionately cute features are not the only distinct differences.
Abyssinian cats have interesting colors as well. If you were to only consider the colors of the coat, the variations and oddities, then you can easily identify the most common colors. When you delve into the reality that everything from the ticked patterns to the color of the eye is interrelated with the color of the coat, then this task doesn't seem so simple!
Before we get into the most common colors of Abyssinian cats, we have to recognize the changes that have happened over the years. Abyssinians were once known for dark patterns and quite rich coats, from a purely color perspective. Blotched, spotted and mackerel variants are now almost nonexistent because of selective breeding over a hundred years.
The most common colors of Abyssinian cats are red, ruddy, cream and blue. Ruddy brown and chocolate brown are common variants. Shades of brown and black on ticked hair, burnt orange hue closer to the skin and tinges of cinnamon are also common.
Correlated with the color of the coat, Abyssinian cats can have hazel eyes, green eyes or rich golden eyes. All three are common but every Abyssinian kitten is born with blue eyes, like other cats. The color changes as the kitten grows up. The color changes with age but the longer an Abyssinian takes to develop the new color, the richer it would be. Abyssinian kittens or cats usually have red nose, brown or black paw pads, a black line at times running along the centre of the back and that may extend to the tail and to the very end of its tip.
While the most common colors of Abyssinian cats are ruddy, red, blue and cream, let's explore some correlations now.
Warm brown Abyssinian cats with black ticked pattern will have deep orange on the interior sides of their limbs and stomach, which is the base color. The tail and the soles on the hind feet would be black. The nose would be brick red with a black outline, the paw pads would be black and the eyes would be intense, either green or amber and in some cases yellow.
Ruddy Abyssinian will have cinnamon, red or sorrel coat with chocolate brown tail, pink paw pads with the toes having tinges of chocolate brown, eyes would be gold or copper, hazel or green and the nose would be rosy pink. You can get way more detailed information on all the various color combinations from the Abyssinian Database.