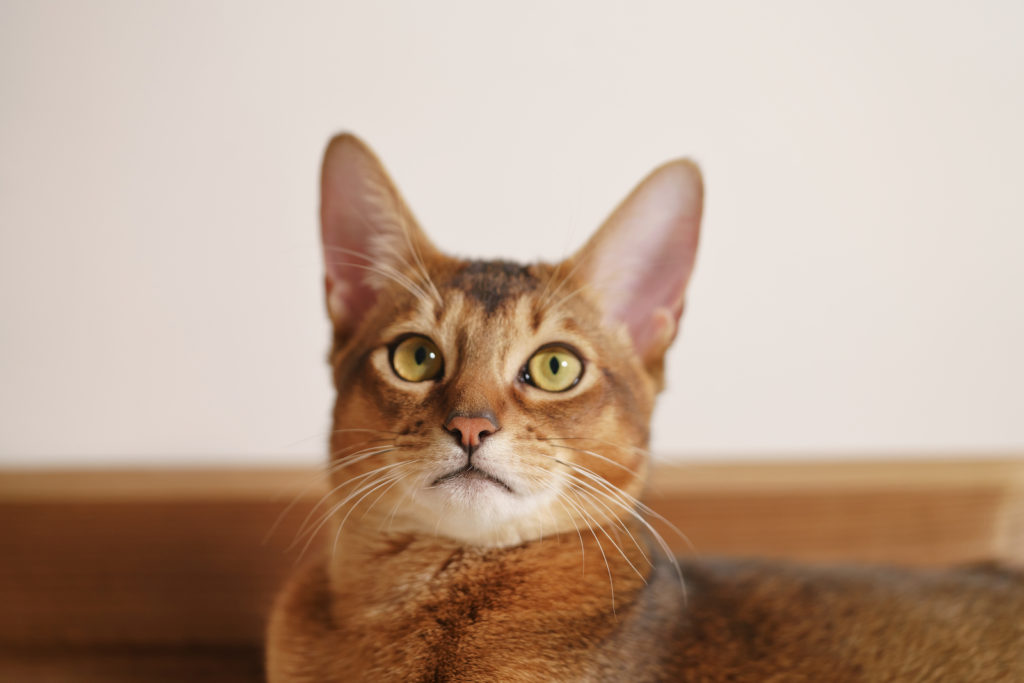 Cat Fanciers can spot an Abyssinian from a mile away but a beginner to the breed might need some help, even with those big pointy ears as clues! Like all breeds, the Abyssinian has evolved over time, adapting to new environments and genetic mutations. There have been subtle and significant changes, both in physical characteristics and personality traits. Because of the widespread popularity of the breed, there are many Abyssinian mix breeds as well. So how do you spot a purebred Abyssinian?
Head and Face
The Abyssinians famous ears are large and pointed, which can be the most obvious giveaway. Next, look at their size and form. Abyssinians are fine-boned cats, medium size and usually slender. The head is shaped like a wedge, and there is a little break around the muzzle.
The chin and nose usually form a vertical line, running straight when looking from the profile angle. The eyes are like the shape of almonds and they are expressive and colorful–gold or green eyes, copper or hazel eyes (depending on the color of their coat).
Body and Coat
Their overall body form is graceful, with longer legs in proportion to their size. Their paws are small and oval shaped, with a tapering tail that is quite long for its size.
Next, you need to look at the more generic features. Male and female Abyssinian cats usually weigh 8 to 12 pounds. Their coat is short and they don't shed as often or as much as other breeds. Their coat is also characteristically smooth and silky. The color of the coat can be red, blue, ruddy, fawn or cinnamon and there are some variants to each of these hues. There is a ticking pattern or a ticked effect you would notice on the coat. These features put together should help you to unmistakably identify a cat as an Abyssinian.
Next: Abyssinian Photo Gallery