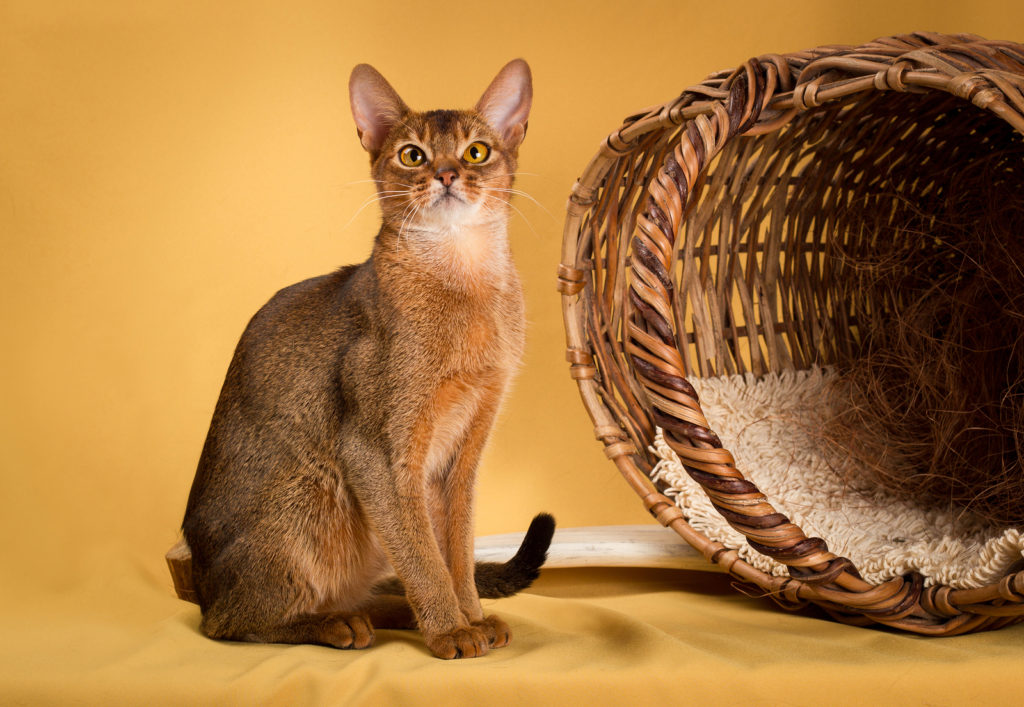 Adult Abyssinian cats generally reach full adulthood weight by their first year. The weight range varies largely on genetics and diet. In terms of gender, you will find that male Abyssinian cats weigh about as much in adulthood as the females. It is also interesting to note that the weight range for Abyssinian males and females isn't all that big either. Both males and females have an acceptable breed range of 8 to 12 pounds.
Adult Abyssinians grow at a very subtle rate. You can think of the kittens as essentially being miniature adults. Both males and females grow at an average rate, reaching mature height at around six months. By the time they are approximately one year old, they should have their full size and weight firmly in place. Given the active nature of these cats, the weight tends to remain fairly consistent for the nine to twelve years that makes up an average lifespan.
Factors That Affect Size
As mentioned before, Abyssinians are fairly active cats. They get in plenty of exercise on their own, so they tend to keep their weight at the breed average (again, 8-12 pounds) for the course of their lives. In terms of helping an Abyssinian male or female to retain the lithe, lean bodies they are known for, you can purchase cat furniture that will allow them to climb. This is one of their favorite activities. High perches or trees can prove to be ideal toys for exercise.
You can also help them to maintain their size by adhering to the best options for their diet. High-quality protein and reduced fat are vital elements to what they should eat, in addition to CLA. There are a number of options that are specifically designed to appeal to cats as active as this breed.
Some owners even use a standard Siamese diet, since the requirements for both breeds is largely the same.
Genetics
Genetics can naturally play a role in the size of an Abyssinian male or female. If an Abyssinian comes from parents of average height and size, then their offspring will almost certainly follow suit. There is very little deviation within this breed. Most Abyssinians meet the height and weight standards.
However, a mixed Abyssinian can certainly be influenced by the genetics of two differing breeds. However, mixes are generally not all that different from pure Abyssinians, specifically in terms of size and height.
If you are looking for a practical and free tool to keep track with the weights (and other important Key Performance Indicators) you should consider checking out this KPI tracker. You simply enter the information and it creates beautiful graphs.