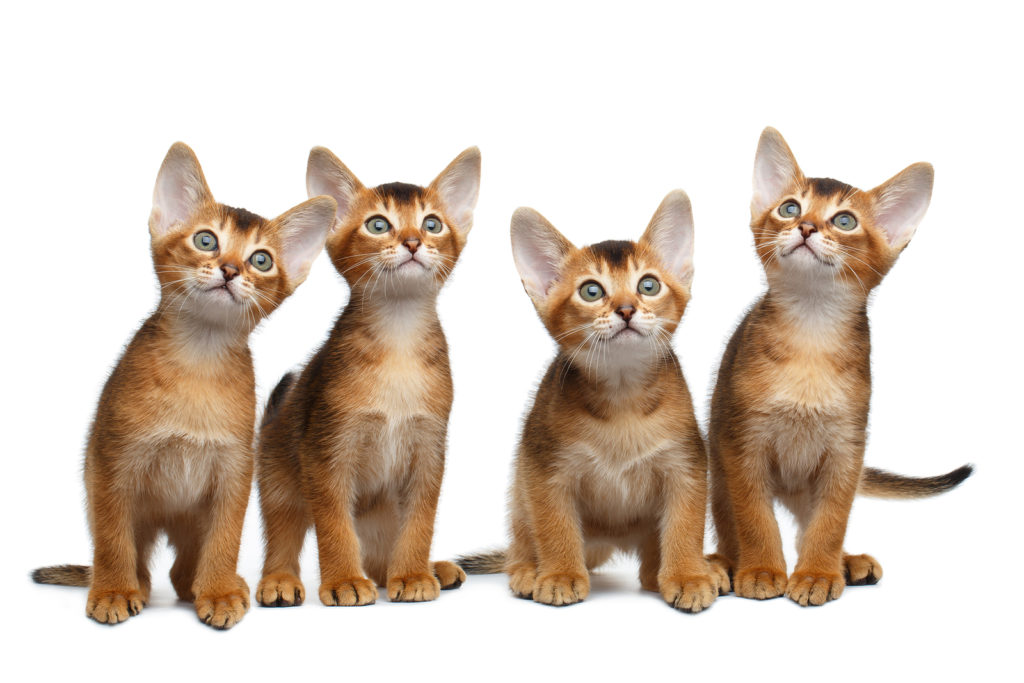 Abyssinians are one of the oldest breeds of cats to be domesticated. There are purebred Abyssinians and mixed Abyssinians as well. The exact cost of an Abyssinian kitten will depend largely on whether it is a purebred or a mix, and a variety of other factors including its lineage and overall appearance. Registered purebred Abyssinians have fully documented medical histories and "show quality" status that can substantially influence their price as well.
The Abyssinian (or "Aby" for short) is one of the most popular and sought after breeds in both the United States and Europe; especially so in the United Kingdom. This medium-sized cat is quite tiny as a kitten, although reputable breeders will never sell theirs until after at least 12 weeks old. A gorgeous lap cat that is very social and extremely adaptable, Abyssinian kittens are always in demand. You should expect to pay anywhere from $500 to $700 for healthy Abyssinian kittens from a CFA registered breeder.
The price range of $500 to $700 applies to purebreds, and not mix-breeds (which will usually be discounted to around $300). However, if there are some particular attributes that are currently in great demand then the price can increase substantially. The preferences for colors of the coat and the eyes (because the two are interrelated) also tend to have an impact on the price. Use the price range of $500 to $700 as your benchmark, and then ask the breeder to explain any significant premium or discount from that range.
Another important thing to keep in mind is that many legitimate breeders lose money on their operations.  They run a cattery for their love of the breed, and not to make a huge profit.  It is very expensive to pay for veterinary bills, premium food and of course providing comfortable living quarters for purebred cats. So although it may seem expensive to a newcomer to the world of purebred kittens, even the best breeders are sometimes just breaking even.
Here are a few other factors that can influence the price of your Abyssinian kitten up or down from the generally accepted price range:
The reputation of the cattery you are buying from
Age of the kitten
Shots already given
Overall health of the kitten along with weight and size
Local demand
How many Abyssinians the seller has at the time
There are some ticked patterns and eye colors that are considered more exotic and highly prized; such kittens will command a higher price tag. It is not uncommon for some show quality Abyssinian kittens with prestigious parentage to be priced at over $1,000.